Val di Sole Guest card
from 26 June to 5 September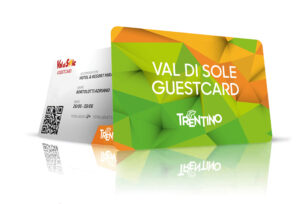 Vacation in Val di Sole.
You' ll have the chance to easily reach  in Val di Sole's mountain tops, with over 10 cable lifts and chairlifts, including the Ortles Cevedale and Adamello Presanella peaks at a height of 3000 meters with a spectacular view of the most extensive glacier in all of Italy.
You can freely travel throughhout all of Trentino by train or bus, plus, you can visit museums including the MUSE in Trento, castles, forts, nature attractions and you can also access the Thermal spa centres for a sampling of their mineral spring water.
All this is possible thanks to the "Val di Sole Guest Card".
This card is available for all our guest at a cost of just € 2.00 per day, with a min. 2-night stay, but it's definitely Worth 10 times more.
CHILDREN FREE under age 12 if accompanied by 1 adult
access to more than 10 cable lift, chairlifts and gondola lifts in Val di Sole, one round-trip ride per day on each lift, extra charge for bike transportation;
unlimited access** on suburban and urban buses, within the province of Trentino, managed by the Trentino Trasport Esercizio company;
unlimited access** on the Trento-Malè-Mezzana railway (including bike trasportation when possible) and on the regional trains of the Valsugana and Brennero railways within the province of Trentino;
unlimited access** to the BIKE TRAIN  (bike transportation included);
unlimited access to the Bike-Bus service in Val di Sole and Madonna di Campiglio and Pinzolo;
admission to important museums in Trentino (MART, MUSE, Museum of Trentino Culture and Traditions), castles and forts ( Buonconsiglio Castle, Thun Castle, Avio Castle), nature attractions and all museums, historical sites in Val di Sole;
access to the Pejo and Rabbi Thermal Spa Centres
 recharge for electirc vehicles;
 discount for the " STELVIO BUS RABBI"
a 10% discount on dairy products purchased at certain Val di Sole dairy producers
a 30% discount on the lifts in Madonna di Campiglio and Pinzolo
** Subject to the addition of a transportation chip or the use of the open Move app, which must be validated prior to every journey
Offers and last minute packages