Booking on line
Check availability and book your holiday at Tonale
Gardenia Restaurant
Flavours of Trentino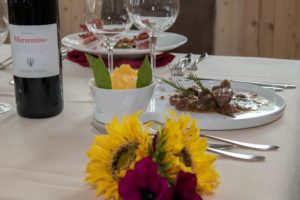 When it comes to culinary fare, the Hotel Gardenia is highly revered. The Passo del Tonale border is the meeting point of two very important cuisines: the local flavours of Trentino, and the richer styles of Camuna, not forgetting the influence of both Mediterranean and international dishes. At the Gardenia Restaurant, our team of chefs combine the best of each cooking style to bring you a culinary adventure that is nothing short of an experience of pure pleasure. When it comes to gastronomic delights, we have full trust in our house chef.
Our kitchen offers you:
a rich buffet of both continental and international breakfast foods.
lunch and dinner with a choice of three menus of a wide variety of dishes.
a buffet of the freshest vegetables and crisp salads, with a wide variety of hot and cold appetizers.
a typical Trentino dinner by candlelight.
Our extensive menu is also followed by a range of delicious homemade desserts, vegetarian options are also available.
Children's menu – offers alternate dishes to the daily menu
All dishes are paired with only the finest Italian and international wines.
Offers and last minute packages